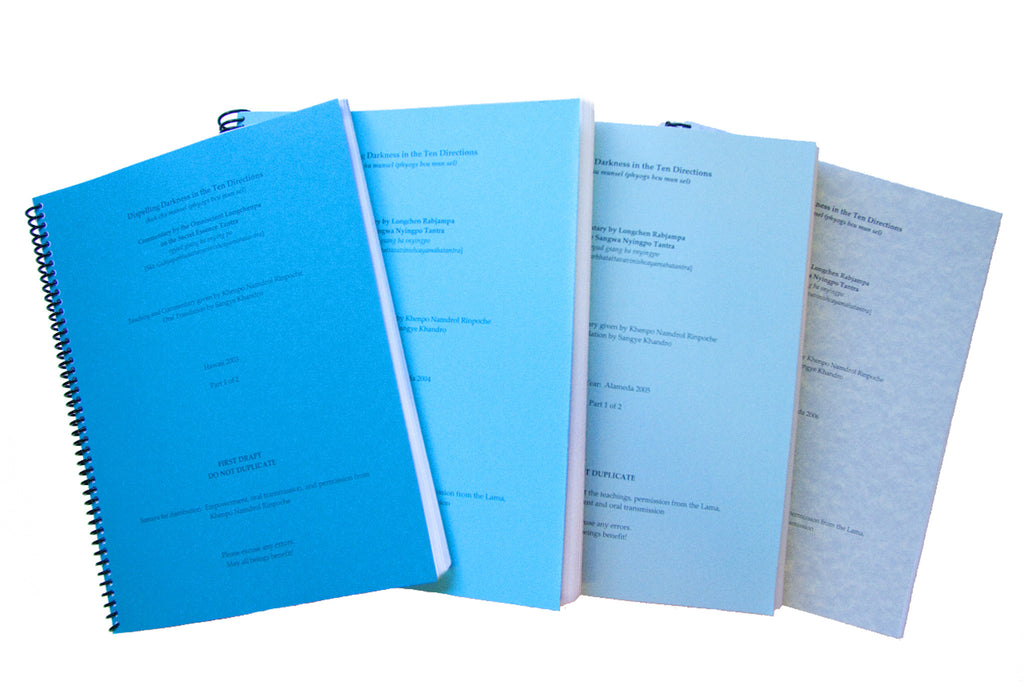 Guhyagarbha Tantra Teachings ~ Transcripts
Guhyagarbha Tantra / Dispelling Darkness
Oral teachings by Khenpo Namdrol Rinpoche
Translated by Sangye Khandro and Lama Chonam
Restricted Publications
Printed Spiral Bound Transcripts
Extensive oral teachings given by Khenpo Namdrol Rinpoche at various dharma centers over the years, with oral translation by Sangye Khandro and assisted by Lama Chonam. Khen Rinpoche's teachings illuminate the Guhyagarbha Tantra, and the Dispelling Darkness commentary by the great Longchenpa.

These printed transcripts span four years of teachings and each year is sold separately. Each years teachings consist of 2 volumes.
Also available as digital PDF, and audio mp3 downloads.
Publications marked [Restricted] indicate that some prerequisite is required for its purchase, such as having received an empowerment, transmission, and/or permission from a lama. If necessary, please consult your teacher or lama to determine if you are qualified to purchase, read, or practice particular texts.
Click here to subscribe to the LOB newsletter for updates and offers.
---
More from this collection