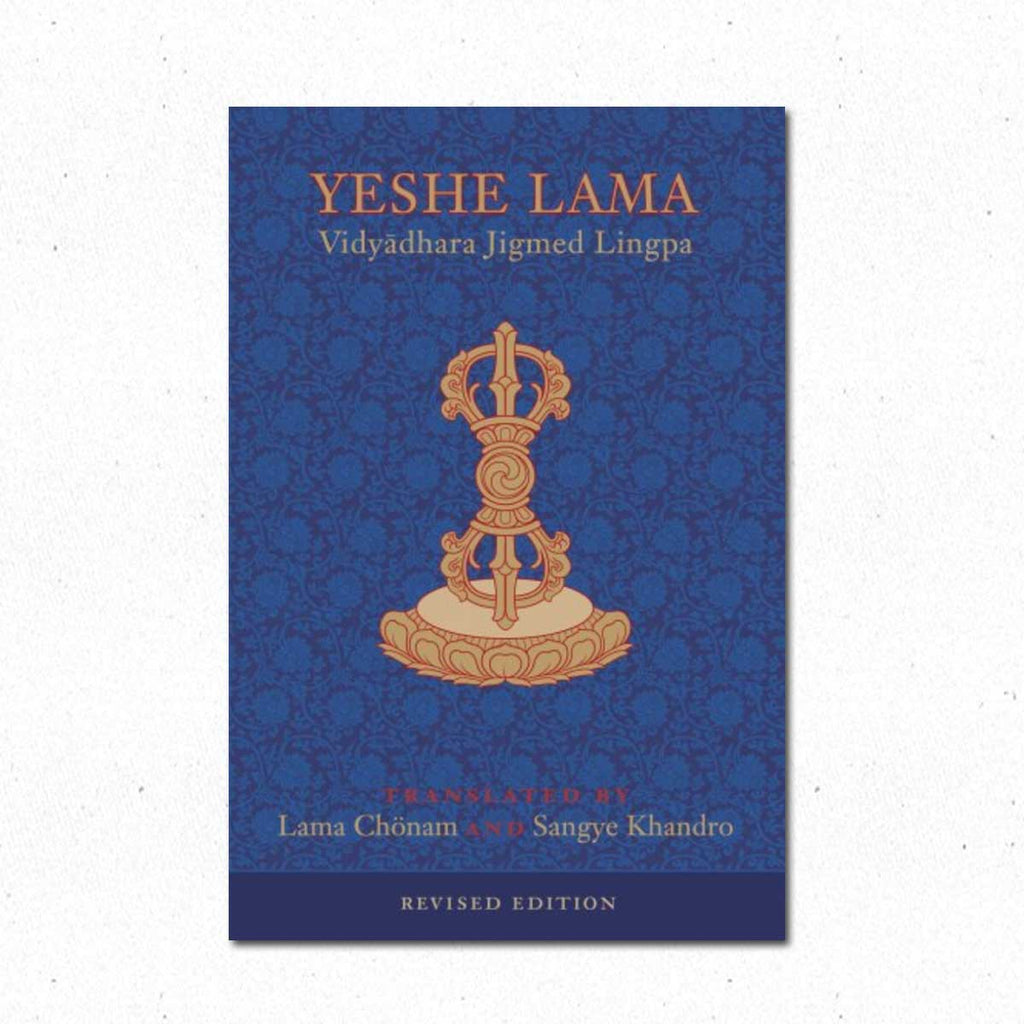 Yeshe Lama ~ Book English
Revised Edition: Refined and updated soft cover 2020 edition.

By Vidyadhara Jigmed Lingpa
Translation by Lama Chonam and Sangye Khandro
Restricted Publication
Also available at Shambhala Publications here.
Yeshe Lama is the most important practice manual on the Great Perfection teachings of the Nyingma tradition. Jigmed Lingpa stated, "Realization of the pure awareness that transcends the mind is the specialty of the Great Perfection."
In this revised edition, Lama Chonam and Sangye Khandro have rendered a more accurate and refined translation of the root text.
Beginning with the preliminary prerequisites, the entire Great Perfection path is spelled out clearly and succinctly in Yeshe Lama, which is meant to be studied and practiced by qualified practitioners who are committed to completing the prerequisites before entering the path of dzogchen. To even open this book, one must have received empowerment and have been introduced to the nature of the mind by a qualified master.
The teachings and practices taught in Yeshe Lama encompass the innermost cycle of upadesha teachings and clearly define the dzogchen practices of trekcho, cutting through to original purity, and togal, crossing over with spontaneous presence. These are the swift practices that can lead to the attainment of the rainbow body and the complete attainment of buddhahood, and this is the same path that has been followed by many of the great spiritual adepts of India and Tibet. Consequently, if one studies and trains in the Yeshe Lama correctly and with deepest respect and diligence, the possibility of enlightenment within one lifetime is within reach.
Transcript (printed and digital), and audio mp3 of oral teachings given by the eminent Yangthang Tulku Rinpoche at Tashi Choling, Ashland, Oregon in 2007 are also available.
Publications marked [Restricted] indicate that some prerequisite is required for its purchase, such as having received an empowerment, transmission, and/or permission from a lama. If necessary, please consult your teacher or lama to determine if you are qualified to purchase, read, or practice particular texts.
© Light of Berotsana. All rights reserved. 
Click here to subscribe to the LOB newsletter for updates and offers.
---
More from this collection